Alaska Cruise

In August, 2008 Ira and I went on a cruise to the Alaskan panhandle.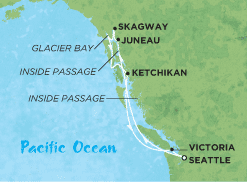 This is my 5th cruise, but Ira's first. Cruising has long been my preferred way of vacationing, luckily Ira likes it, too!
My other cruises have been to the Caribbean, and one of those went through the Panama Canal on the way to Acapulco.
I had heard great things about the Alaska route, so I was eager to try it.