Day 4: Skagway

The next morning we woke up in Skagway. This photo shows the whole town and the majestic mountains surrounding it.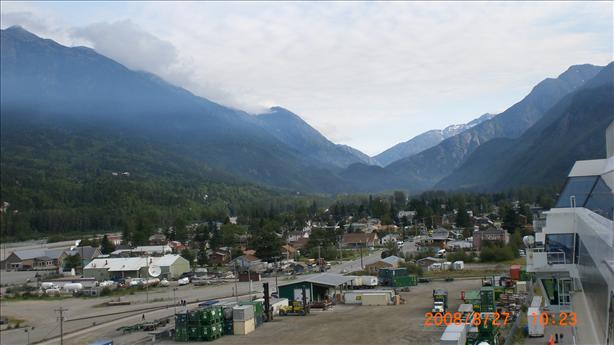 In 1896 large placer deposits of gold were discovered on a tributary of the Klondike River in Canada's Yukon Territory, setting off the Klondike Gold Rush.
The easiest way to get to the gold fields was to take a ship to Skagway, walk over the mountains to the headwaters of the Yukon River and follow the river to the gold fields.
To avoid starvation at the dig sites, the North West Mounted Police (now the RCMP) required that each of the gold seekers be equipped with 1 ton of supplies before allowing them to cross the border into Canada. This meant that each person had to go back and forth from Skagway to the border several times to amass the necessary equipment and food.
This is a shot of the trail that they used. It was just wide enough for a line of men to move along single file with a steep mountain on one side and a steeper dropoff on the other.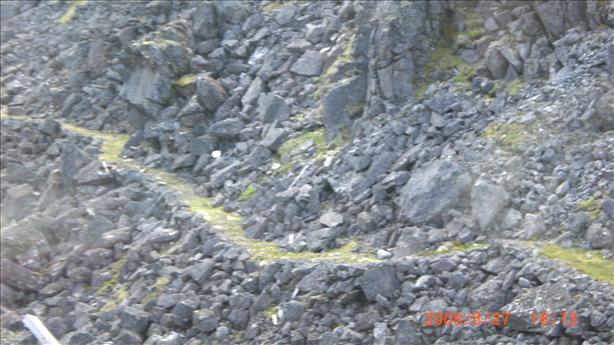 Within a few years a railroad had been built through this very rugged terrain. It was used by miners to get to the gold fields and, later, by hard-rock miners to get gold ore and other valuable minerals down to Skagway. Amazingly, this railroad operated until 1982. It was revived in 1988 as an excursion line for tourists.
We took the shorter of the two possible trips that goes up just as far as the border and then comes back. The views from the train were incredible.
This shot is a look back at Skagway. The two lumps out in the water are very large cruise ships.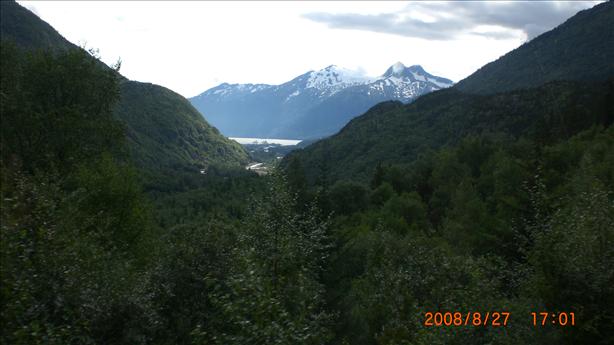 The border is marked by 5 flags: In order from left to right: USA, Alaska, British Columbia, Yukon Territory, Canada.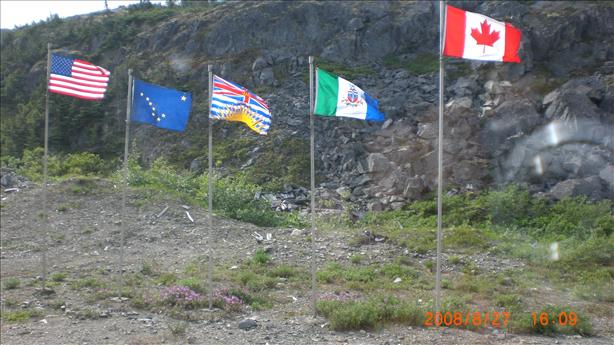 This is a shot of another train passing ours at the turn-around point.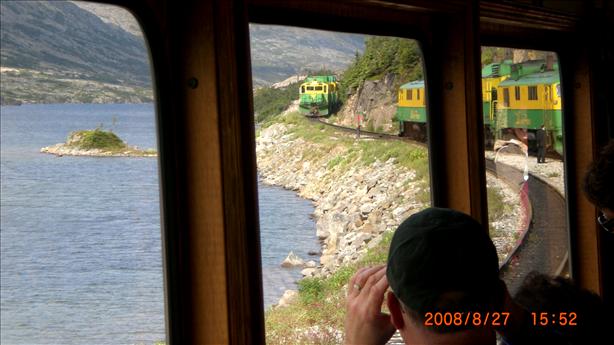 We got to see all this from a comfortable railroad car in August. I can't imagine what this must have been like to cross in the dead of winter!