Day 7: At Sea

The Old Days of Cruising
On all my previous cruises passengers were required to dress for dinner. For Men this meant a jacket and tie. And pants. (Boy, did I find that out the hard way!). This was a holdover from a time when everyone dressed up to eat at any decent restaurant.
Also, we were assigned a table and a specific time seating time for dinner in the dining room.
There was open seating for breakfast and lunch in the dining room, and a few snack bars open around the ship most of the day. Also, of course, there was the well-stocked midnight buffet.
But for dinnner, you had to go to the dining room at your particular time.
I found this to be somewhat unusual, but it didn't bother me too much. The food was always wonderful, plentiful, and included in the price of the ticket.
Apparently, however, as habits changed in the general public, this became a problem for cruise lines trying to attract more and younger passengers.
Free-Style Cruising
Norwegian Cruise Lines vigorously promotes it's "Free-Style Cruising" as an antidote to this.
There is no dress code for dinner. Just some minimal things like a wrap over your bathing suit (which was not a big issue in Alaska).
There are no fixed times for any meal. There is a buffet open most of the day. (I think they close for an hour to switch from breakfast to lunch and again for an hour to switch to dinner.) There are also the traditional large dining rooms that now have first-come, first-served "Maitre'd Seating" like restaurants ashore.
This one was decorated to evoke memories of the last Tsar's summer palace. The windows on the right in this picture are at the very stern of the ship and have a beautiful view.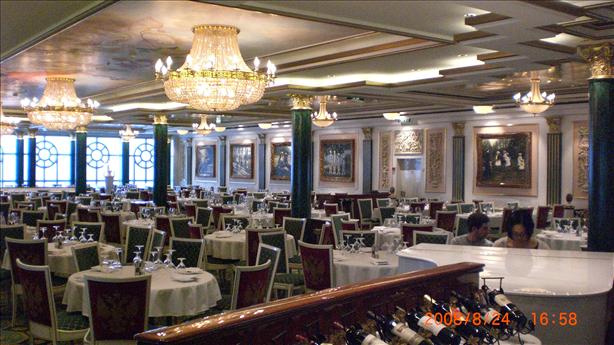 Also there are 6 specialty restaurants, each with a theme: Italian, Mexican, French, Chinese, Japanese, and Steakhouse. These require a reservation a day or two in advance and a "cover charge" of $10 to $20 per person to give people an incentive to show up.
The food in all the venues still lives up to the high standards of cruise cuisine.
The buffet tended to be crowded most of the time. Sometimes it was hard to find a seat and it was usually a challenge to maneuver through the crowd with a full plate of food. But there was a great variety of tasty food!
The dining room was a less hectic choice, but the menus wasn't as varied as the buffet.
The specialty restaurants are an interesting idea, but the food wasn't so much better than the other venues that it justified the irksome cover charge.

What Happened to Victoria?
In reading the itinerary when we bought the tickets, I noticed that we wouldn't have much time in Victoria. We were due to arrive there at about 6 pm and had to depart at 10 pm. This didn't leave much time for excursions.
During the check-in procedure on embarkation day they informed us that we wouldn't be able to go ashore in Victoria at all. Apparently, the ship had a problem with the engines and couldn't make the usual speed. This wasn't a problem for the other ports, but it meant that we wouldn't get to Victoria until after sunset.
In order to abide by their arrangements with the port authorities in Victoria, they dropped anchor and sent a launch ashore with their port taxes, even if they didn't actually dock.
Oh well, I guess we'll have to visit Victoria on another vacation.

Sunset Picture of Us
As we were approaching Victoria, we had some other passengers take this picture of us: