5 Jan, 2004
The original completion date was 31 Dec, 2003. So, of course, we had very little activity in December, but things started happening quickly on January 2nd. That's the day that our tile contractor started. It took him 3 days, but it was worth it. The tile looks great!
In the old kitchen, the countertop and backsplash were tile with wide grout lines. (Apparently, this was the preferred style in the late 50's and up to the late 70's.) The old backsplash tiles were glued directly onto the wall board. This time our installer put a half-inch of mortar on the wall, made that very flat, and attached the tile to the mortar.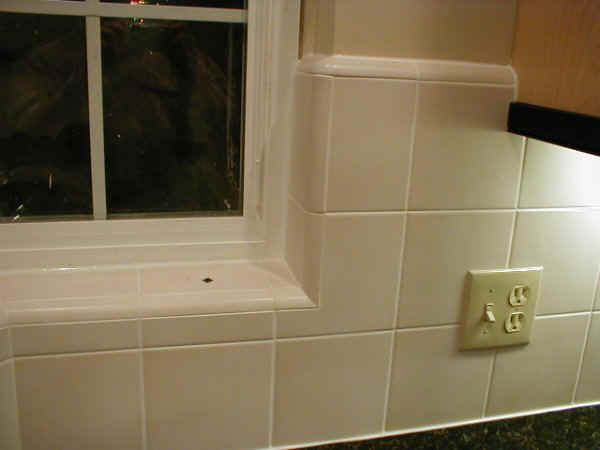 This low light shot shows how he handled the sill edge and the tiles as they approach the corner. If you look carefully next to the corner post you can see a very odd shaped tile.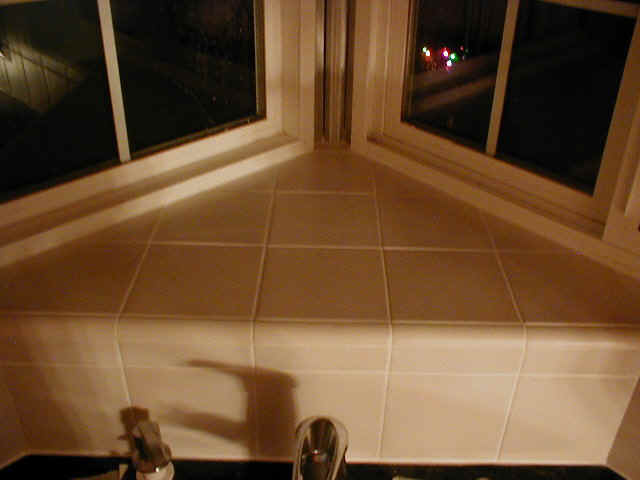 Finally, we have lights in the kitchen, so we can see what it looks like at night! (Most of thse shots were taken with ambient light from the under-cabinet flourescents and recessed incandescents in the ceiling. Also today, they installed the hood, mounted the handles on the cabinets, added the light switches and outlets, installed the new dining room chandelier, and built the box around the hood exhaust pipe inside the cabinet.